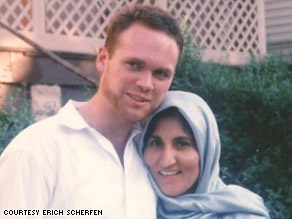 Traitors can be of any stripe:
For Erich Scherfen, being on a government terror watch list isn't just a matter of inconvenience. It could end his career.

In April, Colgan informed Scherfen that he was on a government list and would be suspended from his job. He was told he faced termination on September 1 unless he was able to clear his name.

But Scherfen, of Schuylkill Haven, Pennsylvania, has been unable to do so and said he fears that it could mean he has no future as a pilot.

"My entire career depends on me getting off this list," he said. "I probably won't be able to get a job anywhere else in the world having this mark that I'm on this list."

[snip]

Scherfen is a convert to Islam. His wife emigrated from Pakistan when she was 17 and is now a U.S. citizen. She runs a small business selling books and DVDs about Islam, publications she describes as nonpolitical.

Scherfen and Tareen have both been stopped when traveling and told by security personnel that they are on "a list." Scherfen calls it "embarrassing."

Tareen said she thinks they may be on a watch list because of their Muslim faith and her Pakistani heritage. The two said they are not terrorists and don't associate with people who are.

"I have no idea why I am on the list, and they're not telling officially that I'm even on the list," Scherfen said.

[snip]
"Unfortunately, it is a problem that is shared by countless individuals who have no connection to terrorism, have no connection to crime and don't belong on this list," said Walczak, the ACLU lawyer.

Walczak acknowledged the need for the government to protect the country from threats with a watch list but said, "The problem with what the government is doing is that they really don't care about innocent casualties."

Scherfen said the pain of his situation is accentuated by the fact that he spent 13 years in uniform protecting the country.

"We served honorably," he said. "We served in a war. And they're thumbing their noses at us, basically, and that makes me feel … really sad about this situation."
Oh, go whine to the French, you pansy Muslims. Although not all terrorists may be Islamists, all Islamists are terrorists. It's very likely that you are a double agent, and America has had several problems with your kind. If you legitimately cared about your career and your freedom, then you would have remained a Christian or a Jew, and maintained opposition to Islam. Apparantely, you don't care that we're fighting a War On Terror/Islam, so the U.S. Military should, at the very least, discharge you from the military. Real Americans will want you executed, and if President Bush listens to his base, then he will do so, as well.